If you're looking for commercial interior design ideas to inspire your new office design, look no further! At HQ Renovations we have taken on our fair share of commercial design projects and we're here to show you what works. We're passionate about building unique and stylish workspaces that serve their purpose.
This blog takes a look back over our recent projects to give you our industry-approved commercial office interior design ideas to help you find some inspiration! To chat with an expert about your interior design ideas, reach out to HQ Renovations today.
Our Top Commercial Office Interior Design Ideas
There's an art to commercial office design. Unlike domestic design, there is a greater emphasis on the functionality of the space, but that doesn't mean it has to be boring! There are so many creative ways you can mix aesthetics and purpose within your commercial interior design.
Playing with Shapes
Cannon Street
Break up the boring blocks and shapes of your commercial office design and experiment with your layout. Take a look at this hidden kitchen nook from our project at Cannon Street!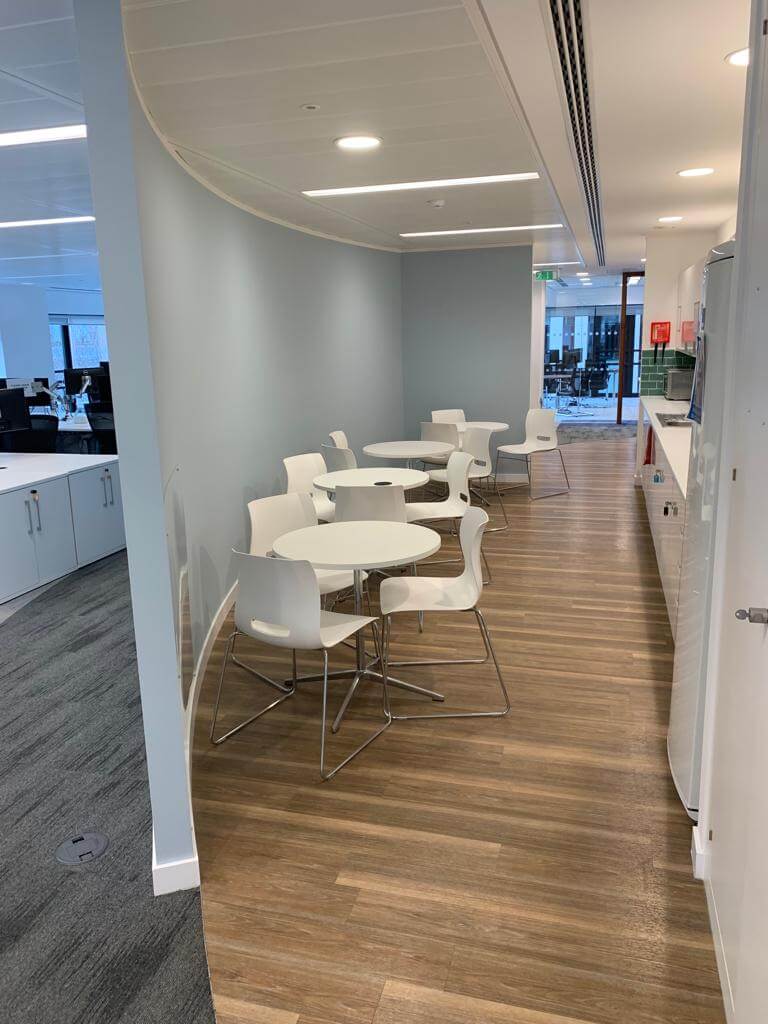 This curved wall and floor create a unique and interesting hideaway that separates the kitchen space from the rest of the office without hurting the open plan feel! Pairing this with the light colour palette and round tables makes for a bright and airy break space to relax in.
Mix Textures
Rathbone Place
Nobody wants to stare at four blank white walls all day, it's enough to give anyone a headache! We think the stunning exposed brick walls from our Rathbone Place project really help to add a nice point of interest to the space.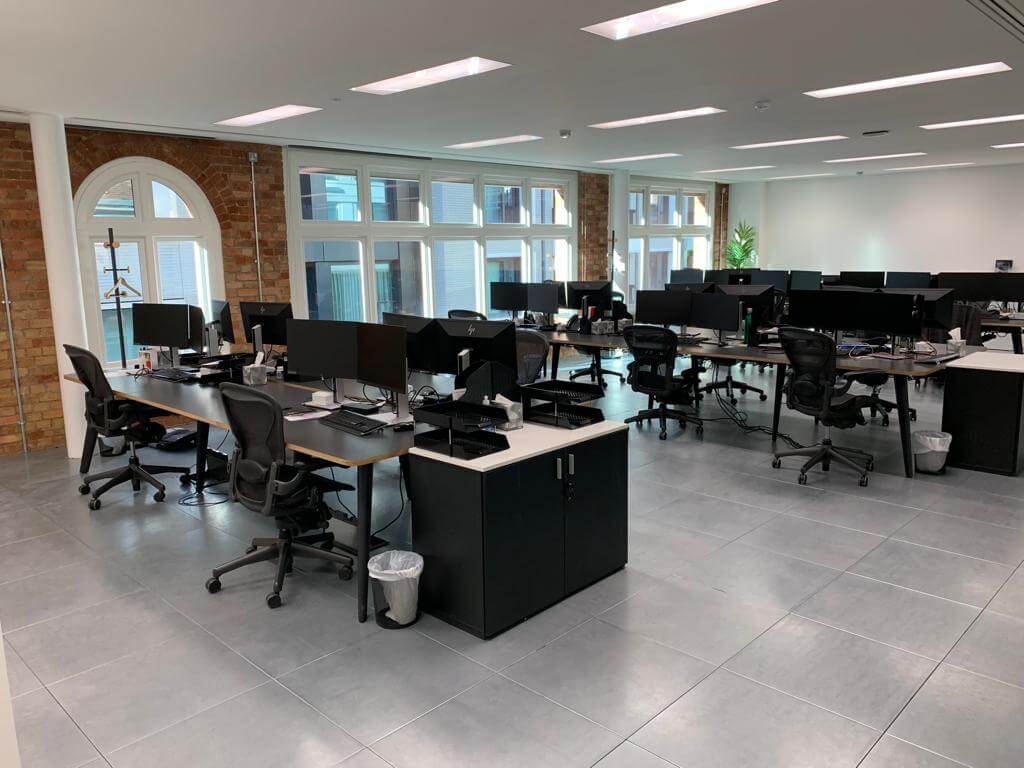 Mixing up your wall textures and bringing in a feature wall is a great way to add some sophistication and flair to the space. If the exposed brick is a little too much for you, achieve a similar atmosphere by adding some additional depth to a wall with a collection of canvas paintings to break up the white space.
Add a Pop of Colour
Dekota Weybridge
Colour is a great way to align your commercial space with your business branding, like our project with Dekota – Weybridge. The possibilities are endless, feature your colour palette across multiple furniture items, flooring, and walls to create a cohesive interior design.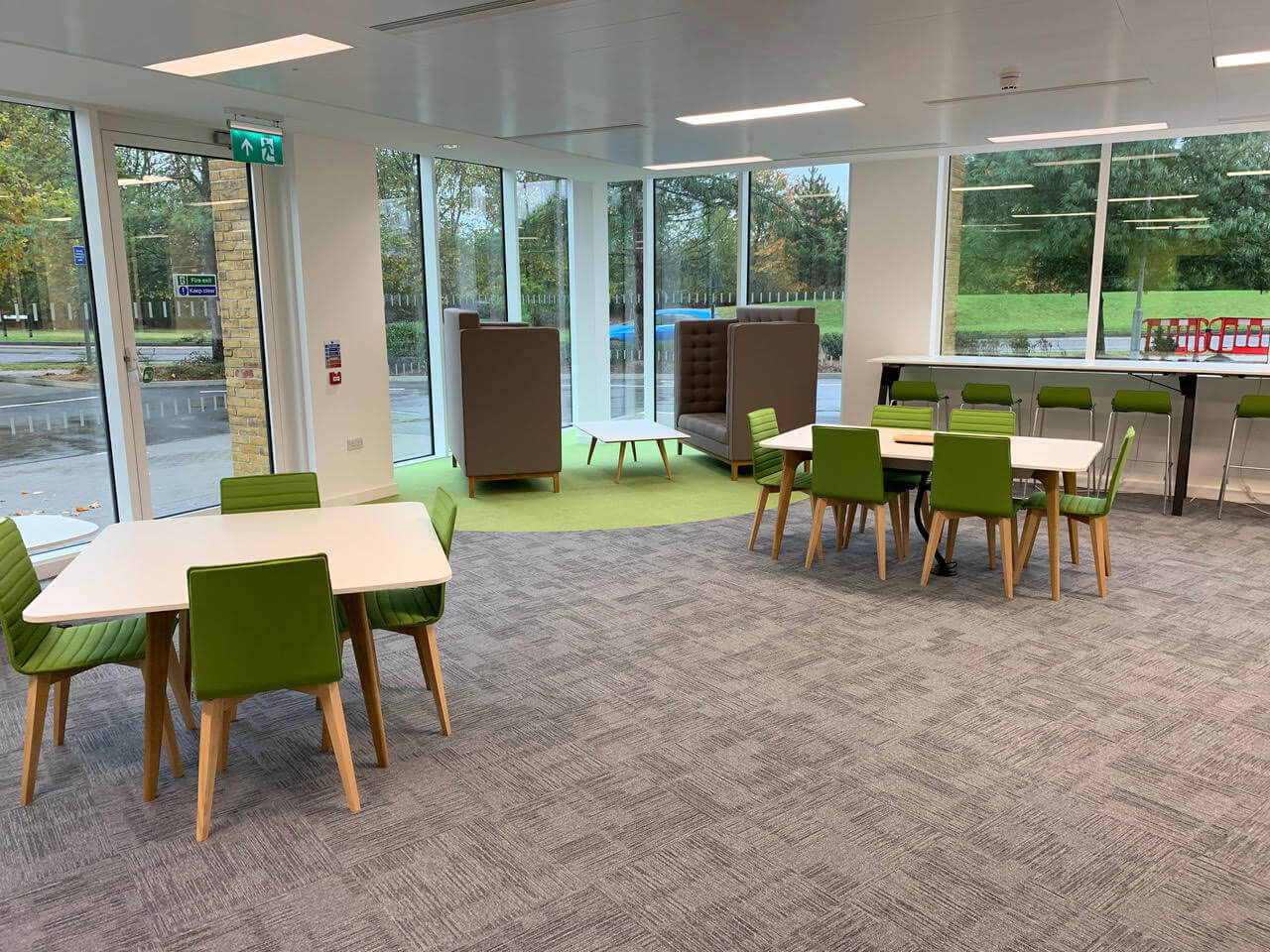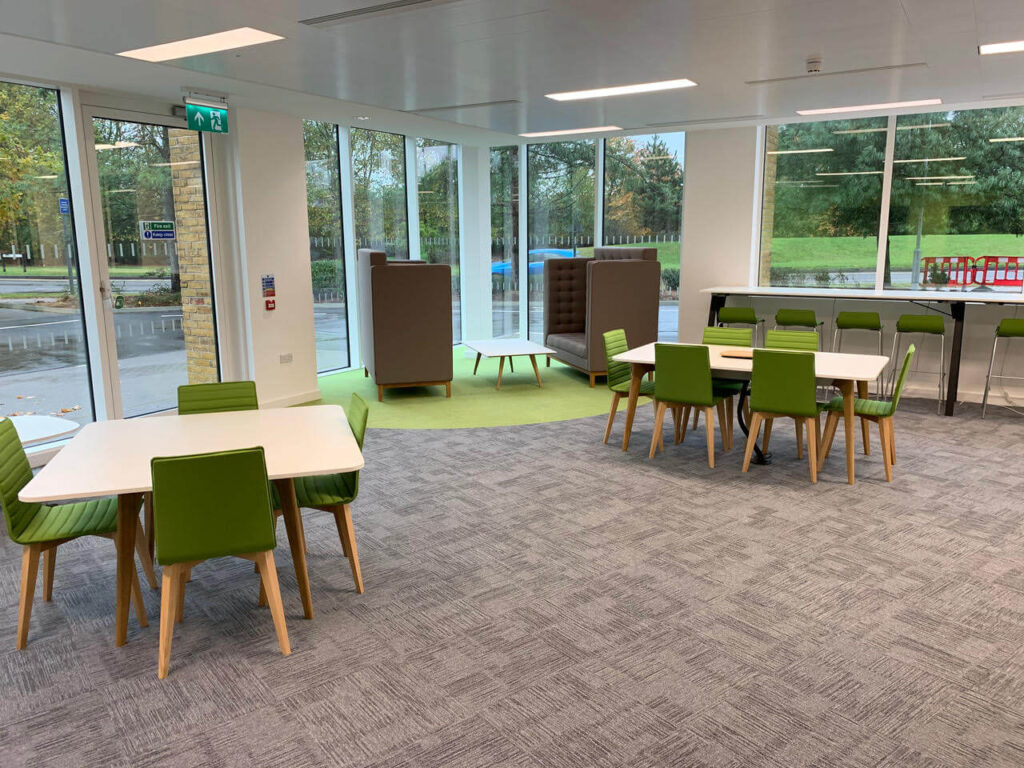 You'll be amazed by how much life and inspiration a little bit of colour can add to your commercial office design!
Let There be Light
One Dorset Street
Take advantage of the natural light available to you, like we were able to with our project for One Dorset Street. Whether your office building has large floor to ceiling windows or not, you can use the space, colour and layout of your space to help light travel throughout the workspace!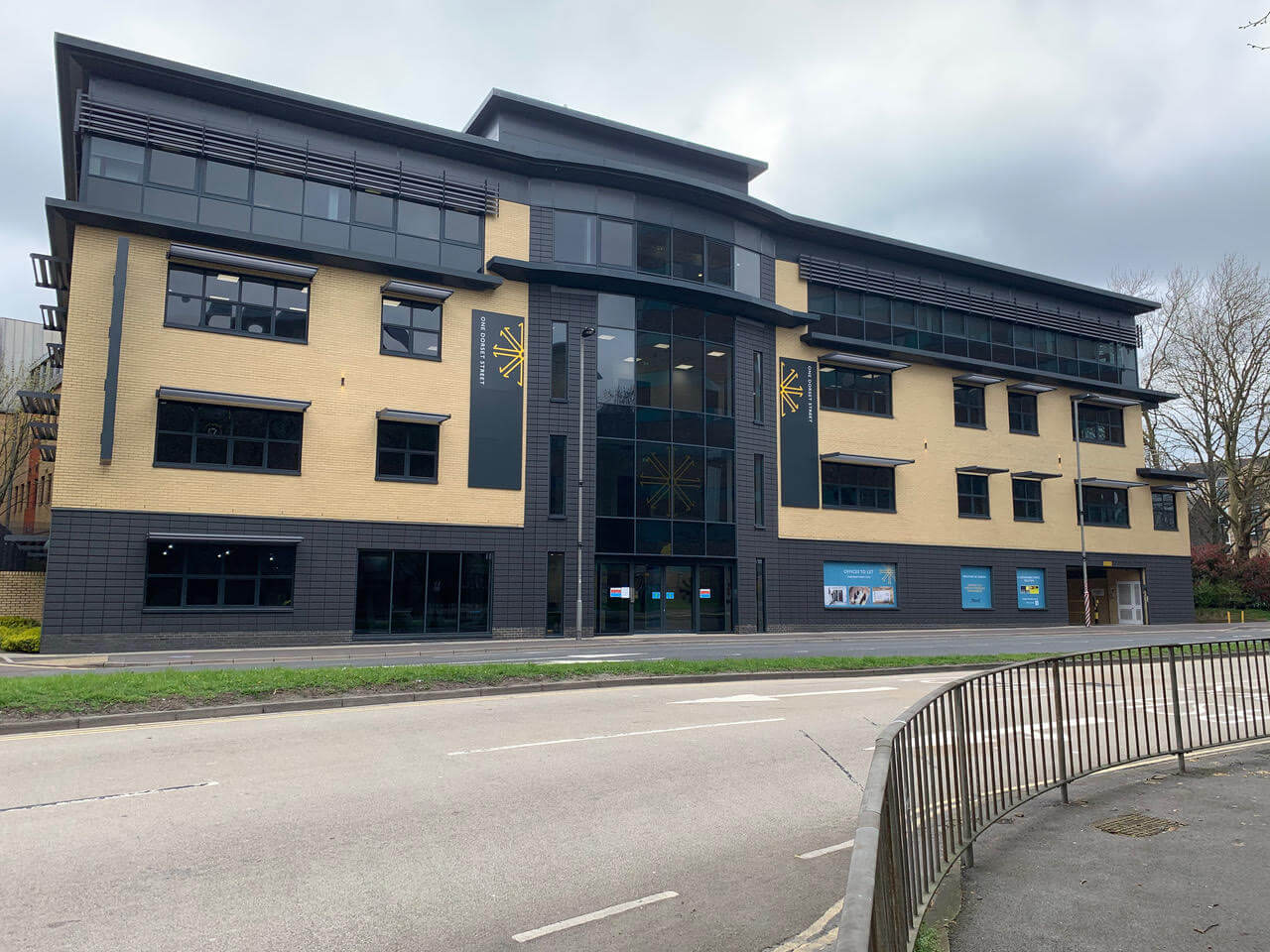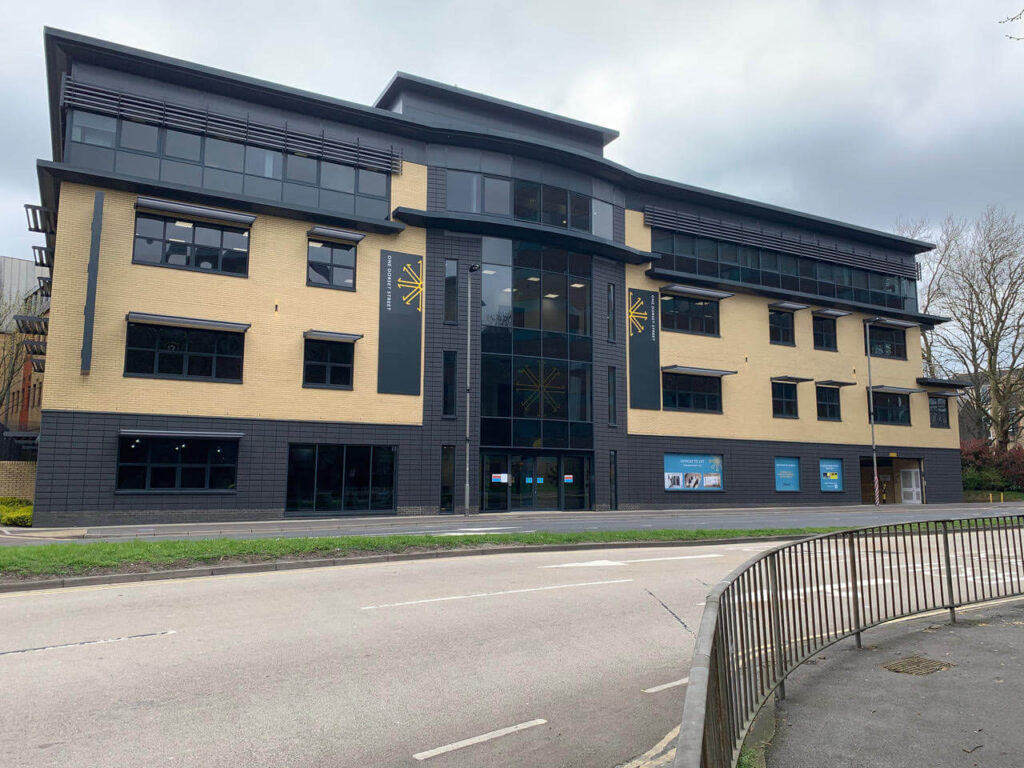 To maximise your natural light, make use of a bright and airy colour palette to allow light to bounce and reflect of the walls. If possible, you can also hang a large mirror across from your window or glass doorway (this looks great above a reception desk)! If you're space doesn't get much light, try to brighten up your layout with a minimalist open plan workspace to avoid obstructing whatever light does come through.