The idea of renovating a house is exciting, but it can be daunting as well. As fun as it is to contemplate colours, design your dream kitchen, and beautify your bathroom, once you start thinking about how much work it will be, it might feel overwhelming.
Don't let the thoughts of the process stop you in your tracks! Renovating a house doesn't have to be stressful – especially when you've got a handy guide to walk you through it.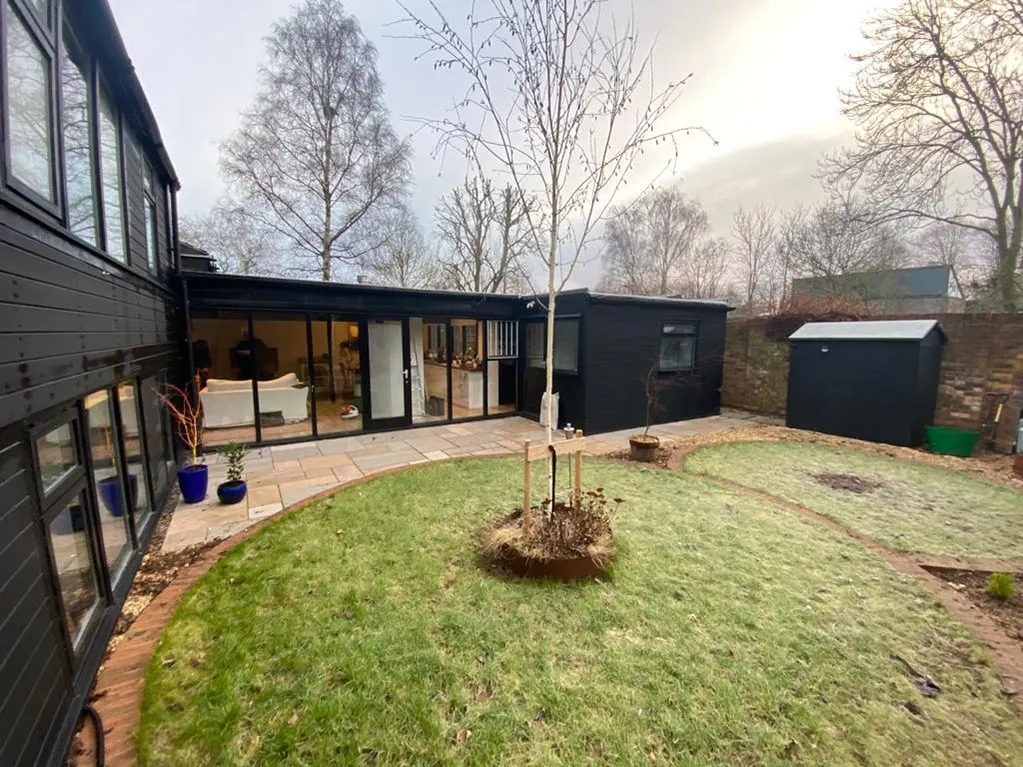 This article explains how to renovate a house and answers some of our most asked questions about home renovation. For personalised advice, contact our team at HQ Renovations today.
How Much Does it Cost to Renovate a House?
The price of a home renovation will vary depending on many factors, including:
The area or areas of the home you're renovating
The size of those areas
What you're renovating within them
How much of it you can do yourself vs. how much you will need to hire contractors for
The fixtures, appliances, and products/brands you choose
Your location
The age of the house
The condition of the house
Any structural work
The complexity of the renovation as a whole

For example, a small bathroom renovation will typically cost much less than an entire home renovation. However, one small bathroom renovation may equal the cost of an entire home renovation, depending on the factors above.
In London, a 3-bedroom house renovation costs £76,900 on average. Typically, a smaller house will cost less, but not always. You will need to adjust your budget in relation to this average, depending on your specific renovation needs.
How Long Does it Take to Renovate a House?
Much like with the cost of renovating a house, the length of time it takes will vary between projects as well. Some minor renovations can take as little as a week or two, while entire house renovations can easily take months (again, depending on the specific renovations).
Before you begin renovating your house, your builder and any other contractors will give you an estimate of how much time the project will take. This sets your expectations and gives you a clear and accurate timeline to work with.
With that being said, delays can occur. If any part of your renovation may be delayed, your contractors will let you know as soon as possible. In most instances, these delays are worked into the time estimate upfront, as a 'just in case'. If they're not needed, great— you may get into your new home sooner than expected!
How to Renovate a House on a Budget
Renovating a house can be a costly affair. However, it doesn't need to break the bank! It's possible to renovate a house on a budget and still have it look and feel just how you want.
If you're on a budget for your renovation, here are some ideas for each room:
Kitchen
Small changes in the kitchen— the heart of your home— can make a big difference. If your kitchen cabinets are in good condition, something as simple as repainting them can make your kitchen look as good as new!
Changing out the countertop for something more modern can also make a big change, and this can be done well, even on a budget. Choosing more budget-friendly countertop materials such as butcher block, laminate, and tile can leave your kitchen looking amazing while still leaving money in your wallet.
The backsplash is one of the first things people will notice about your kitchen, and thankfully, changing this doesn't need to be an expensive affair. Swapping out a tired backsplash with a modern yet economical option like tile, glass, or ceramic is a great idea for making a big difference for less.
Bathroom
In the bathroom, it's all about storage, storage, storage! Not only is bathroom storage functional with all the bits and pieces we keep in there, but the look of the storage you choose can make a large impact. Open shelves are generally a budget-friendly choice, and they also add a modern yet relaxed feel to your bathroom. Other popular options include tiered carts, leaning ladders, and decorative display baskets, all of which regularly feature in home styling magazines.
Wallpaper has made a comeback in recent years, and it's become much easier to install yourself. This also makes it cheaper, so it's a win-win all around! You can choose to wallpaper every wall or stick to a feature wall (which will also reduce the budget). Choose a wallpaper that complements the style of your bathroom, and if you're not sure what might work best, there are temporary, peel-and-stick options you can try until you find the right one.
Changing out the hardware, like the taps, can also be a game-changer when sprucing up your bathroom. New taps look great while remaining functional and can give your vanity area a more modern feel— plus, they're relatively easy to install yourself, so they may be much cheaper than you think! Going for a rain shower head is also a great way to modernise your bathroom on a budget, and gives your bathroom a luxurious, spa-like feel.
Living and Dining Rooms
Living and dining rooms differ from kitchens and bathrooms in that they don't have as many (or any) fixed features that can be costly to move or replace. This means that a living or dining room renovation can be as simple as swapping out the flooring and wallpapering or painting the walls, making them some of the most inexpensive areas of the home to renovate.
Flooring is another aspect of renovation that has come a long way recently. These days, it's much simpler than it used to be to change the whole look of a room with flooring. Self-adhesive tiles are a DIY-friendly option that many homeowners choose to use, and the materials are much cheaper than replacing an entirely wooden floor, for example. Plus, being a DIY project, you'll save on labour costs.
Give your living and dining room walls the same treatment as the bathroom (though probably not the exact same colour or pattern!) with wallpaper or paint. Again, these are typically DIY projects that will save you money. As with the bathroom, you can wallpaper or paint all of the walls, or give three walls an essential coat to freshen them up while focusing the attention on a feature wall.
Is it Worth Renovating a House Before Selling?
Some people choose to renovate their homes after they've lived there for a while and plan on staying, while others decide to renovate to hopefully increase the sale price when they go to sell. If you're considering renovating your house to sell it, there are some things to keep in mind.
Budget Considerations
It could all come down to whether you have the budget to renovate right now, or if you don't have the ability to do so and would need to sell first. Renovating will cost you up-front, but it's very possible to reap the benefits and get your money back if you can sell for a better price than you would be able to for an unrenovated home. This is something you will need to discuss with your real estate agent, as it will depend on the market and location you're in.
Blank Slate
Some people searching for a new home have a style in mind and want a home that already has the look they want so they don't have to do the renovations themselves. On the other hand, some people are looking for a blank slate to put their own touch on. You can't know who your buyers will be, so this may be another aspect to discuss with your real estate agent to determine whether or not it may be worth it for you to renovate before selling.
Renovate Your House with HQ Renovations
As London's leading renovation team, we specialise in both domestic and commercial renovations. Transforming homes that people love to live in is what we do day in and day out, and there's nothing we love to see more than happy homeowners at the end of a project!
Whether you're renovating a kitchen, bathroom, or the entire house, we're on hand to make your home your own. From site inspection and quote through to handover, our team at HQ Renovations is ready to start making your home dreams come true. To get started, contact us today!