One of the main reasons that the elderly and those with disabilities are unable to continue living at home is the unsuitability of their bathroom. Toilets, showers, bathtubs, and even sinks may all be difficult to navigate, but they cannot be avoided. It's essential to keep up with your hygiene, so doing so can become a hassle.
There are numerous things that can be included when designing a bathroom to suit your needs, not to mention make it more comfortable and safer.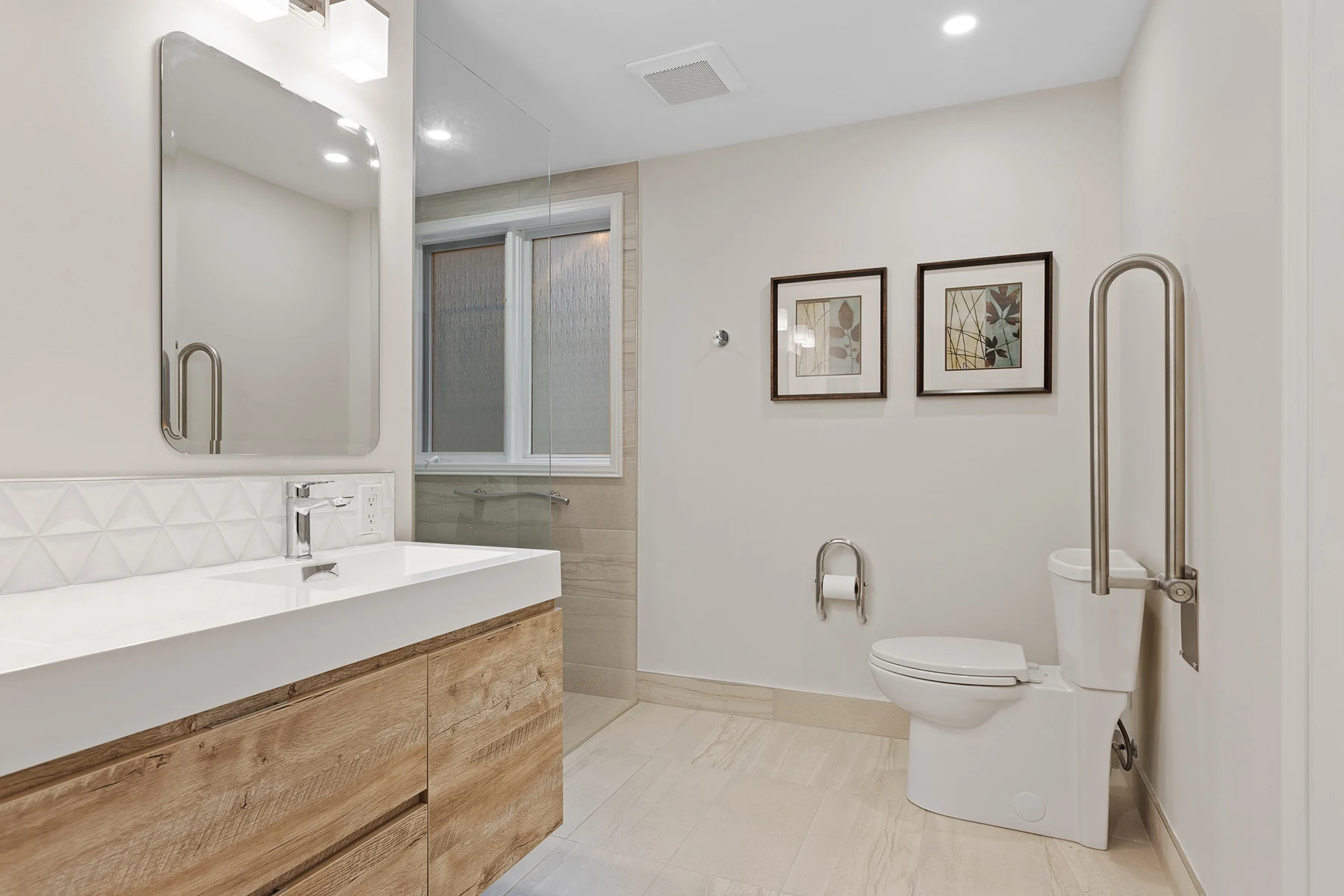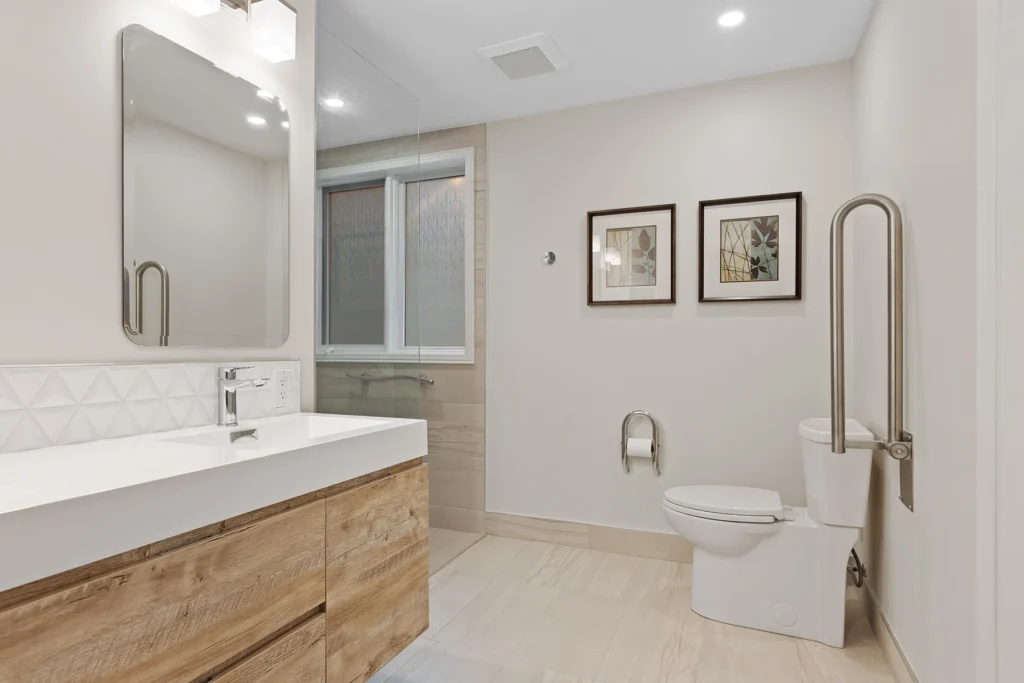 The team at HQ Renovations can help you to design a bathroom that makes ageing in place or living with a disability easier. We work with a variety of adaptations and aim to make recommendations that will make the space as safe as possible for users of all abilities. Contact us for more information.
Make it Accessible
Ease of access to the bathroom as a whole, but especially the shower, is crucial for elderly and disabled users. It's important to eliminate steps and make provisions for wheelchairs and walking frames (such as having curbless showers and walk-in bathtubs).
Ensure that the layout of the space allows for easy movement. Leave 4 to 5 feet of empty space in front of the toilet, for example, as this will allow for a wheelchair to turn 360 degrees.
Consideration must also be given to emergency access. Sliding doors are a great solution, as they can easily be removed (even when locked). If swinging doors are used, ensure they have special hinges that allow the door to be easily detached. Any door locks should allow for privacy while being easy to break (if necessary) so that the bathroom can be accessed.
Raise the Toilet
Normal toilet pan heights are between 420 and 460mm, but a height of 500 to 550mm often works best for elderly users. A higher toilet may make it easier to sit down and stand up. Some specially designed toilets also come with an increased pan projection or backrest to provide some extra support.
If you're not able to replace the toilet, fitting a thicker toilet seat may help to raise the seat height.
Install Rails
Safety rails are often an essential feature for an elderly or disabled person's bathroom. There are several options available, from 90-degree wraparound grab bars to T-rails. You'll want at least one beside the toilet, one in the shower, and one over the bathtub (if you have one). Specific disabilities may also require that they be installed elsewhere in the space.

Opt for a Walk-In Shower and Hand-Held Shower Head
Showers are often the best and safest option when it comes to an elderly or disabled person's bathroom. A removable shower head on a rail may also make showering a lot easier, especially if the person needs assistance with bathing.

Add a Shower Seat
Standing in the shower for a long time may be challenging for those who have lost strength and mobility. A shower seat, coupled with a hand-held shower head, may provide a greater sense of independence, giving users more ability to sit down whenever they need to.
Switch to Lever Mixers
Lever mixers work best in bathrooms for the elderly or disabled, as they can be turned on and adjusted with one hand. Look for chunkier styles that are easier to hold, but avoid sharp corners (which could scratch or cut more delicate ageing skin). There are even foot-operated faucets available.
Choose Matte-Finish Floors
No matter your age or ability, glossy or highly polished floors are going to present a serious slip hazard in bathrooms. Matte-finish flooring, such as natural stone with a honed finish, is a great alternative. It will provide a safe, non-slip surface and actually absorb water (decreasing the risk of slipping even more).
It's also a good idea to choose larger tiles, which will minimise the number of grout lines. This creates a surface with fewer transitions, which can help to avoid foot discomfort.
Other Useful Tips
Some other useful tips for helping elderly and disabled persons stay safe in the bathroom include:
Getting rid of unnecessary clutter from vanity tops and shelves
Installing a waterproof emergency phone
Storing items that are used frequently within arm's reach
Opting for non-slip bath mats near showers, bathtubs and toilets.
Try to maximise natural light by expanding windows or adding a skylight.
Universal Bathroom Design for People of All Ages and Abilities
Whether you're planning a bathroom renovation to suit the needs of an ageing or disabled loved one, or you're planning a bathroom renovation with these future needs in mind, the team at HQ Renovations is here to help.
With more than 30 years of experience in the construction industry, we have designed many universal bathrooms and would love to help you create one that is both functional and aesthetically pleasing.